https://whitecroftgroup.com/sites/default/files/styles/gallery_full/public/H2_Internal%20%281%29.jpg"views-field views-field-field-gallery">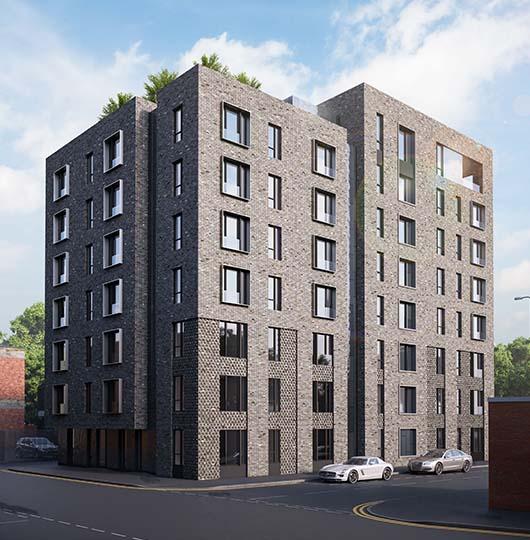 https://whitecroftgroup.com/sites/default/files/styles/gallery_full/public/H2_Ext_0.jpg"view-footer">
A bold façade perfectly nestled in the heart of Manchester with soft but highly contemporary features, H2 Castlefield is a city centre development like no other. These visionary apartments offer stunningly created and stylised interiors and create the perfect home for the modernised city dweller. Steeped in history, intertwined with period and modern architecture, Manchester is a thriving city with Castlefield proving itself as the perfect location for our flagship H2 development. 
6 HULME HALL ROAD, CASTLEFIELD
Apartments in this angular, cutting-edge development combine modern and contemporary features sympathetically designed to form a perfect balance with Castlefield's iconic surroundings.
H2 features a combination of brick and emulated molten metal as a 'nod' to the former ironworks in the area. The striking silver strip down the centre of the development ingeniously emulates the nearby River Irwell, offering the ultimate eye-catching design.
AWARD WINNING ARCHITECTS
Its unique design, ideal location and contemporary interior truly showcases H2 Castlefield as the epitome of modern day city living. Designed by award-winning Cheshire based Calderpeel architects, this development of 42 one and two bedroom apartments is finished to the highest standard.
Images, specification & additional details are all subject to planning permission and can change at any time without notice.  
Key features
42 apartments across 8 levels

Combination of 1 and 2 bedrooms

High specification development

Modern fixtures and fittings

Optional white goods upgrade available

Select number of penthouses with roof terraces
Looking to buy
Please contact us for further information relating to H² Castlefield. We'll be happy to discuss any of our developments with you.